Home Office: Where to Start?
A home office remodel or conversion can be a great way to increase productivity while creating a more pleasant "at home" working atmosphere. A good home office starts with consideration of needs and priorities. Surface space, organization, storage and numerous other factors play into a well-designed office space, requiring consideration of desks, wall units, shelving and cabinets. Considering the "personalization" of your office space is also important and can make working from home a pleasing experience. Closet Masters has been designing and installing home offices for years and has helped people get the most out of an often crucial space. Our reputation, warranties, and pricing will help make this process pain free and even fun!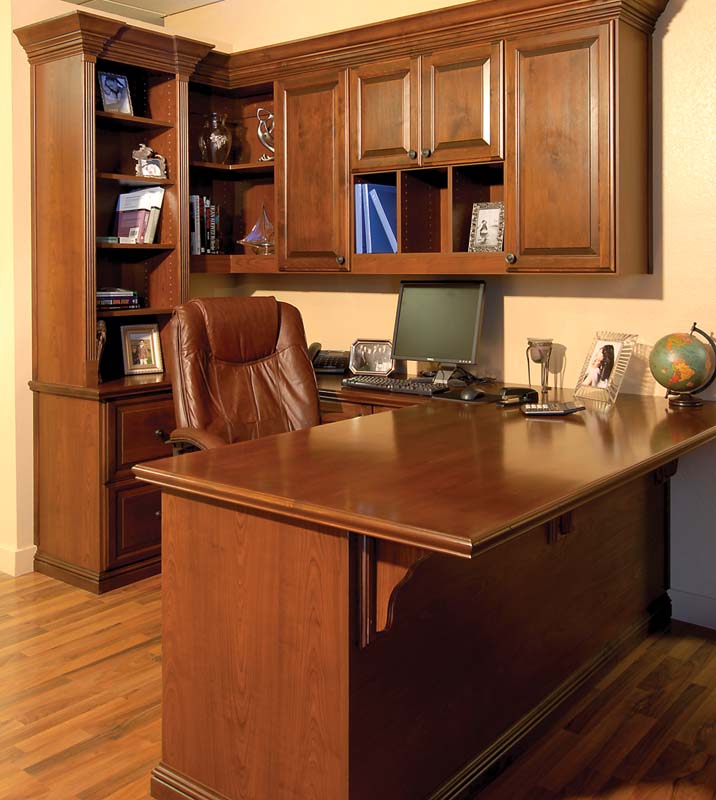 How do I get started updating or converting my new home office?
You can start by setting up a free in home estimate with one of our experienced designers. Whether you wish to do it yourself, buy our cabinetry, or use our full design and install service, we'll help you consider all options, and get the most out of your new home office. Uncovering needs and considerations in the planning/design process is crucial. Considerations should include:
Work space: How much surface space is needed
Electronics: Printers, monitors, keyboards, laptops all take up room but innovative designs can keep space requirements to a minimum.
Power: Plan for the future with plenty of access to power outlets.
Cables: Not only an aesthetic consideration but a safety concern as well.
Storage: Ample storage for files, printing paper, office supplies, etc.
Lighting: Proper lighting is a crucial and often overlooked consideration. Generally the more light the better for working environments and helps avoid eye strain.
Chair: As you may be spending countless hours sitting, an ergonomically designed chair should be a consideration.
How do I optimize my home office ergonomics?
Home office ergonomics should be a serious consideration in any home office design, especially if you are planning on heavy usage. Proper ergonomic design can increase productivity, enjoyment, and overall health. Ergonomic considerations can vary by client but at a minimum, lighting and glare, keyboard orientation and elevation, chair (lumbar support, adjustable arm rests, adjustable height and back support, etc.), adjustable monitor position, proper speakers, and aesthetics that relax (window, art, family pictures, etc.).
What if I just need to add storage to my home office?
Home office organization and storage are key elements in any home office design plan. Wall units, filing cabinets, shelving, drawers and organizers are some of the tools Closet Masters provides in our home office designs. Our state of the art design and manufacturing process allows us to build custom storage cabinets and wall units that will help optimize efficiency, storage, and space requirements.
Do you have recommendations for decorating my home office?
A well designed home office should inspire and motivate and can often be very difficult to define for most DIY clients. One thing to consider in any home office is, of course, paint colors. What colors motivate or relax you? Patterns and stripes can add variations and provide a break from monotony. As mentioned earlier, proper lighting of your home office is very important.
Summary
When looking for home office designs and ideas, always think in terms of inspiration as your home office should be practical but should also include things that motivate and stimulate. Consider all current needs and anticipate future needs. For example, a home office 30 years ago required a few power outlets while today's home offices require as many as a dozen or more. Consider current and future storage and organizational needs.
We hope this information was helpful for you and again, feel free to contact us for a free in home design consultation. We are thankful for the opportunity to help.
Unbeatable 5-Star Service
It was the first time I ever used Closet Masters and they did an excellent job from beginning to end.... more I would highly recommend them.

Arch Robertson

7/26/2023

We have used Closet Masters at 9 different homes that we have owned. Needless to say we have been thrilled... more with their professionalism, their design, their quality of work and the integrity of everyone from the owner to the sales people, office people and installers. We really cannot say enough and we would definitely use them again

Marcy Bern

1/08/2023

They are simply amazing! We have asked for their help for the last 15 years, and several properties ago.... more The entire team, from design, to installation has been prompt, professional and delivered each and every time.

Rick Beyer

10/12/2022

I'm a previous customer and loved their work and customer service the first time around, so naturally I called them... more again for a couple of other projects I want to do and can't get much of a response. Due to a holiday weekend there was a delay in my quote but it still took 2 weeks to get it, then I sent a follow-up question to the rep maybe a week after that, and it's now been 2.5 weeks with no response and I'm getting really annoyed. May have to go elsewhere.

Courtney Lynn

8/06/2022

They did an amazing job on our closet. I could not be happier I asked for a lot and they... more were able to do everything. I would 100% recommend them to everyone

robert hovermale

6/15/2022